Effective Monday June 1, 2020
Effective Monday 6/1 the buyback center will REOPEN Monday through Saturday 9am to 3pm. All customers must have loads presorted and wear facial covering. Loads over 200 pounds will need to have an appointment for special handling after hours. Only 1 customer is allowed in buyback at a time. Please enter through dirt lot and follow signs.
Due to Covid 19, the Transfer Station hours are 6:30 am to 7:00pm Monday through Saturday and 7:00am to 5:00pm Sunday. Office hours are 8-4pm Monday through Friday via phone or email at OLP4014@wasteconnections.com.
We appreciate your patience during this difficult time.
Mammoth Disposal Team
Effective Monday April 6, 2020 until further notice, Mammoth Disposal Office will be temporarily closed to the Public. We are available by phone 760-934-2201 or email OLP4014@wasteconnections.com. Our Transfer station will remain open regular hours 6:30am to 7:00pm Monday thru Saturday and 7:00 to 5:00pm on Sunday's. All routes will remain in full operation. If you would like to make a payment you may do so by calling, emailing, paying your bill online, or dropping a check payment in night drop.
Deliveries can be dropped off at 264 Commerce Dr. 8am to 4pm.
We appreciate your patience during this difficult time.
Mammoth Disposal Team
RECYCLING CHANGES
Paper products that can be recycled are office paper (no clips or binders) and newsprint(bagged).
Cardboard is clean corrugated cardboard only (no cereal boxes, egg cartons, waxed cardboard).
TO OUR VALUED CUSTOMERS
In light of the ongoing global health concerns we wanted to reach out to you, as your local partner in the community, to let you know that your well-being and the well-being of our team is our most important priority.
Like other businesses, we are carefully following all appropriate safety procedures as outlined by the Center for Disease Control (CDC) and the World Health Organization (WHO).  Additionally, we are following recommendations and mandates being made by our; Federal, State and Local authorities as it relates to the impact of COVID – 19.  We are taking care of our team members so that we can continue to fulfill our commitments to the community.   Our entire Team is committed to getting us through these difficult times.
As daily routines change to help slow the spread of COVID-19, the ways in which you can reach us will remain unchanged:  
Contact our Customer Service Department in Mammoth, Monday thru Friday 8:00am – 4:00pm at 760-934-2201 or 877-413-0186.
Customers in the Town of Mammoth Lakes and Mono County, email us at OLP4014@WasteConnections.com
We have a payment mail slot at the front door of the Mammoth office.
Our office staff, remain available to help you during our office hours, if necessary.
Follow us on our websites at Mammoth Disposal.com and WasteConnections.com
For additional updates, go to the joint Mono County/Town of Mammoth Lakes Coronavirus Response Page https://coronavirus.monocounty.ca.gov/.
At Mammoth Disposal we are committed to the safety of our employees, our customers and the public in all of our operations, please know we are here for you and don't hesitate to reach out to us if you have any questions.
Sincerely,
Glen S. Long
District General Manager
Waste Connections
Mammoth Disposal and Bishop Waste
Our transfer station is a convenient waste and recycling center open to the public. The facility provides a variety of services which include waste disposal, recycling, and hazardous waste disposal.
Planning a wedding, retirement party, concert, craft fair, community function or sporting event? Mammoth Disposal is here to help! We have bear-resistant dumpsters, portable toilets and sink units, toilet trailers, and recycling services meet the needs of your event.
Mammoth Disposal operates the only "Buyback Center" in Mammoth and Mono County. California Redemption Value (CRV) products such as glass, aluminum, plastics 1 PETE and plastics 2 HDPE are accepted.
MAMMOTH DISPOSAL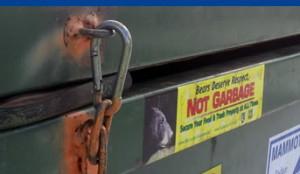 MONO COUNTY WASTE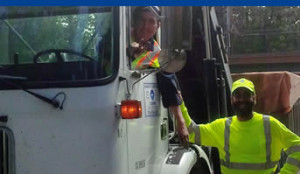 DO NOT DISPOSE OF HOT ASHES!!
PLEASE TO NOT PUT ASHES IN THE TRASH CONTAINERS!! All ashes must be taken to the landfill or transfer station.