JOB FAIR!!!
WHEN: June 11th & 12th   9 am – 3 pm
WHO: Diesel & Auto Mechanics, Class A or B CDL Drivers
WHERE: Bishop Waste Office
DETAILS: Those interested need to bring a resume with them to the event or APPLY ONLINE.
Our transfer station is a convenient waste and recycling center open to the public. The facility provides a variety of services which include waste disposal, recycling, and hazardous waste disposal.
Planning a wedding, retirement party, concert, craft fair, community function or sporting event? Mammoth Disposal is here to help! We have bear-resistant dumpsters, portable toilets and sink units, toilet trailers, and recycling services meet the needs of your event.
Mammoth Disposal operates the only "Buyback Center" in Mammoth and Mono County. California Redemption Value (CRV) products such as glass, aluminum, plastics 1 PETE and plastics 2 HDPE are accepted.
MAMMOTH DISPOSAL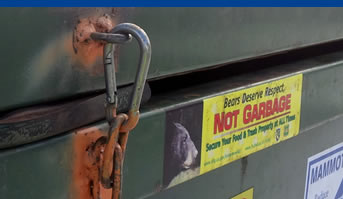 MONO COUNTY WASTE