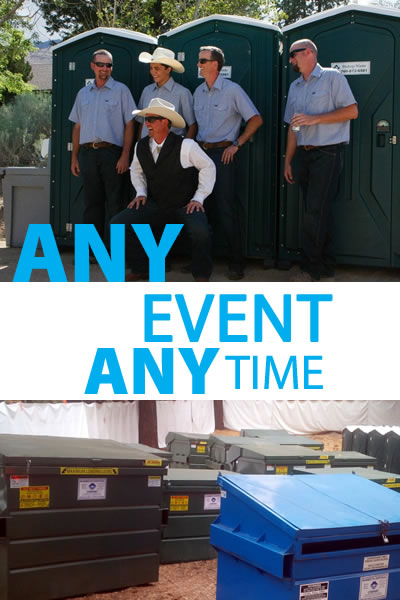 Are you planning a wedding, retirement party, concert, craft fair, community function or sporting event? Mammoth Disposal is here to help. We have bear resistant dumpsters, portable toilets, portable sink units, toilet trailers and recycling services meet the needs of your event. We can accommodate from 5 to 7,500 people.
Why Choose Mammoth Disposal for your next event?
We are Experts in the Business. We have been operating in Mammoth Lakes since 1980 and know how to take care of our customers. Are you unsure of how much service you need or where to place containers? We can schedule an appointment to meet you on-site and to see what will work best for your event. We know how to get the job done right and help make your event a success!
We Live, Work and Play in the Area. We are located on the south edge of Mammoth Lakes in the industrial park. Our office is located at 59 Commerce Dr, which is right next to our Waste & Recycling Center. Stop by your neighborhood Waste and Recycling Company to let us help plan your event. We can show you the container or portable unit to determine what will work best for you.
Trash and Portable Toilet Services
Dumpsters and Roll Off Bins
Portable Toilets with Hand Sanitizers
Flush Portable Toilets for Weddings
Handicap-Accessible Portable Toilets
Portable Hand Wash Stations
Special Events We Service:
Mammoth Lakes Chamber of Commerce Business After Hours
2023 Town of Mammoth Lakes Community Clean-Up Day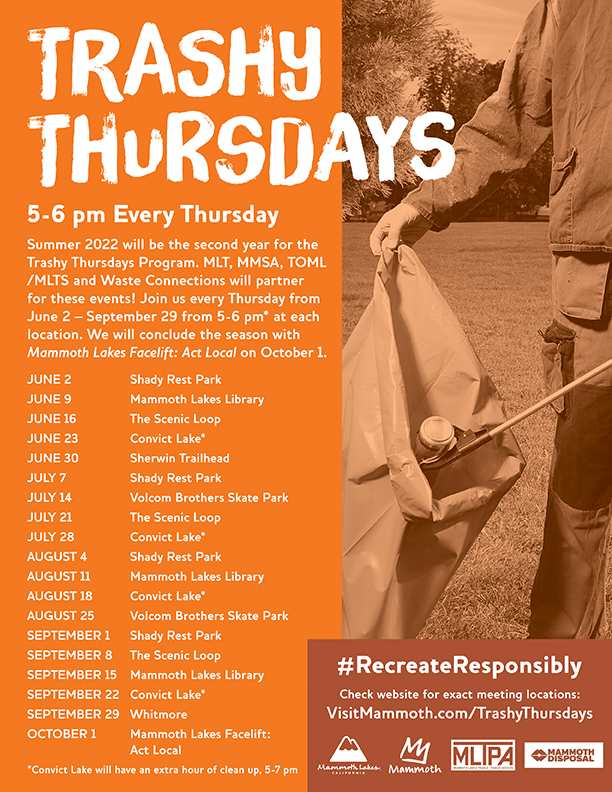 Volunteers Needed for Clean-Up Day
Disabled Sports Eastern Sierra
Hayden Cabin Weddings
Mammoth Fourth of July
Hot Creek Fish Hatchery
Mammoth Lakes Fireman's Picnic and Canoe Race
Children's Fishing Festival