Hours: Monday through Saturday 6:30am-7:00pm and
Sunday 7:00am to 5pm, open all holidays
Transfer Station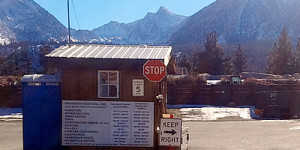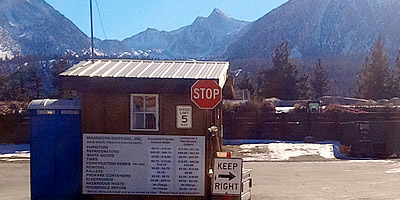 This is a self haul service that puts you in control. This service is required by all the residences of Mammoth Lakes, who own a 1 or 2 unit complex. The Town of Mammoth Lakes has partnered with Mammoth Disposal to provide a necessary service for the health and safety of all the residences. To review the Town of Mammoth Lakes ordinance, please click here to view chapter 8.12.
The Transfer Station is located at 59 Commerce Dr, Mammoth Lakes, CA 93546. You will check in with the Gate Attendant by providing them with the name on your account and what material you have. Bagged household trash, recyclables, pine needles (up to 110 gallons) and hazardous waste is accepted for no additional charge. Construction debris (limited to 8 yards per day), appliance and electronics are charged a discounted fee. For proper disposal and fee, please ask our Gate Attendant or call our office at 760-934-2201.
Transfer Station Rates
Single Family Service: $77.30/quarter
Double Family Service: $157.70/quarter
Curbside Service
This service is less common because of the difficult winter conditions and bear activity. To keep our community safe and to minimize bear interactions only Town approved bear-resistant containers can be serviced.
Curbside Weekly Service
The trash container is provided by Mammoth Disposal. Fee is $187.80
every 3 months.
Sign Up for Reminders!
Commercial Services:
Mammoth Disposal provides a dumpster service that is sure to meet your business or multi-family home needs. Service is available 7 days/week and in a variety of sizes. The dumpsters are all equipped with bear resistant lids and have the ability to be locked for security. They are serviced weekly.
2 cubic yd Container
Ideal for small businesses, duplexes, and four-plex buildings.
3 cubic yd Container
Well suited to meet the commercial waste needs of medium-sized businesses, and office buildings
4 cubic yd Container
Well suited to meet the commercial waste needs of medium-sized businesses, and office buildings
6 cubic yd Container
Perfect for large businesses, restaurants, multi-unit apartment buildings, and condominiums
Our 3 cubic yard and 4 cubic yard front load containers also work well for home remodel projects and smaller construction projects.
The 6 cubic yard dumpster provides the additional space for your commercial waste collection needs.
Construction dumpsters
These can be provided for your job site. The 4 cubic yard dumpsters have the flexibility to be placed at the edge of a project site that is limited on space. With great service 7 days/week, we can help you keep the project moving.
Roll Off Services: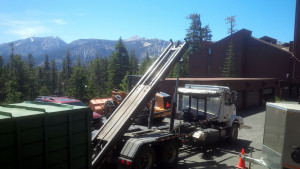 You don't have to worry about cutting the pieces to fit inside of a small dumpster; you can toss them in one of our 10 yd3, 20 yd3, 30 yd3 or 40 yd3 Roll Off containers. The Roll Off container has hinged doors at one end so they can be opened for easy access. All your construction debris can be placed in the container up to the fill line.
Do Not Place the Following Material inside the Roll Off:
Hazardous Waste
Metal
Food Waste
Ashes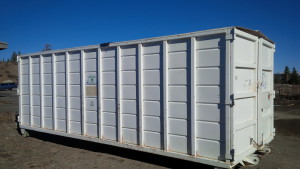 Storage Boxes:
Our storage boxes are a convenient and secure method to store your belongings. We have two sizes that can help you stay organized and out keep your stored items of the weather.
Portable Toilet Rentals:
The clean and convenient portable toilets at Mammoth Disposal provide a solution for your construction site. The toilet can be delivered on time and in the right place so you can worry about your project. We have the available inventory ready to completely outfit your needs.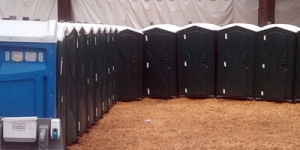 Standard, handicap accessible, and trailer toilets are available. They all include toilet paper and antibacterial hand sanitizer. For your convenience we can set up a wash station right next to your portable toilet. Call Mammoth Disposal at 760-934-2201 for the best service at the best price.
Clean, Reliable Products:
Fully-stocked inventory of portable rental toilets for quick service
Portable sinks and hand sanitizing stations
Restroom trailers with toilets